Owning a home is a dream for almost all of us. However, the age-old opinion has always been that buying a house is better than renting. While both have pros and cons, the final decision depends on your financial capacity and lifestyle. There are many differences that make owning and renting property vastly different. For one, when you rent out a property, you are free from responsibilities related to homeownership. It also gives you more flexibility since you're not tied to the property. On the flip side, owning a house is a significant investment, and a costly one at it, both upfront and in the long term.
Having said that, renting isn't better than owning a house, and vice versa. If you're caught between buying your own home or renting, one way to tackle this dilemma is by exploring the differences between buying and renting as you weigh the pros and cons of both. In this article, we highlight the key differences between renting and buying.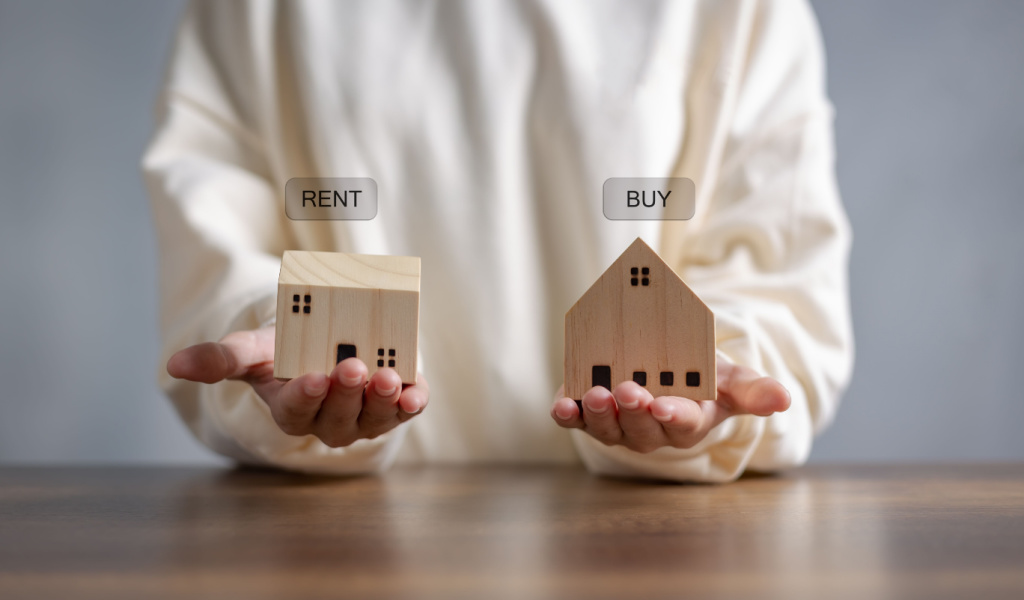 Renting a Home
"But you're throwing away money every month, aren't you?"
This is among the first things you're bound to hear when the debate between renting and buying a house is in the talks – and it's also one of the biggest myths out there.
First, when you need a place to live, it will always cost money in some shape or form. Yes, you're not building equity with the monthly payments you're giving in rent, but you know exactly how much your housing costs each month. This gives you more stability in planning and allocating your finances.
However, you would also face rent increases whenever your lease is up for renewal, and the increase could be steeper if you happen to live in certain parts of the city!
Advantages of Renting a House
Offers more flexibility, particularly for those facing sudden job relocations. Since renting doesn't require a long-term commitment, it's a good option if you don't plan on staying in one place for a long time.
It allows you to live in an area where you might not be able to afford to purchase a house.
It's much easier for you to move out as a tenant than a homeowner. This is because you don't have the additional stress of finding someone else to take over the lease or buy the property since this is the landlord's responsibility.
A tenant will only need insurance to cover the content of the house, whereas all the maintenance work on the property is the homeowner's responsibility.
After you've paid the rent, you can allocate any additional money to invest somewhere else without stressing over putting your savings into a home loan.
Disadvantages of Renting A Home
The rules of the lease agreement bind you, and this can affect your freedom to use or renovate the house.
You are not allowed to make changes to a rented house without getting the consent of the homeowner.
If you encounter any issues, you must deal with the rental agent, who will act as the liaison between you and the homeowner. Therefore, this third-party involvement means problems take a lot longer to resolve.
There is no return on investment because the property doesn't belong to you. Instead, you're paying toward the homeowner's home loan.
You have no control over rental fluctuations, which are affected by inflation.
You don't have a guarantee that the lease will be renewed once it expires.

Owning a House
"Your own house? That's such a luxury!"
When homeowners are told this, they often shake their heads and say, "I know, but it's a lot of work – and money!"
Owning a house brings a lot of tangible as well as intangible benefits. Not only have you ticked a life goal, but you get to decide how you want to style the space. Plus, the pride and stability of ownership are great feelings. However, there is also a flip side because owning a property means more responsibilities and expenses.
Remember, real estate is an illiquid asset, meaning you wouldn't necessarily be able to sell it when you want. Even if you manage to do so, you may not sell it for the price you anticipate. Moreover, transaction costs associated with selling property could amount to a significant amount.
This is why the overall cost of homeownership is generally higher than renting out a house. As a homeowner, there are certain expenses that you're required to cover, which you don't have to worry about as a renter. This includes property taxes, water and sewer services, tree trimming, pest control, homeowner insurance, and, not to forget, seemingly endless repairs and maintenance costs!
Advantages of Buying a House
Provides long-term security, equity, and growth of personal wealth.
House values are bound to appreciate over time, so you can earn a good profit when you sell.
Owning a house makes it your legal property, so you can use it as you wish.
You have complete creative control of your property without being restricted by a landlord.
You can rent out your house to generate an income that can be put towards the home loan.
You can save money in the long term due to potential tax deductions related to properties that generate income.
Disadvantages of Buying a House
Significant financial responsibility for home maintenance works as well as bond repayments.
There are many additional costs, such as insurance and taxes, that homeowners are responsible for.
There is a risk of not making the anticipated profit from resale owing to economic factors like high interest rates and recession.
Unlike tenants, who can quickly leave the property, homeowners have less mobility when moving homes. More often than not, they will look to sell their home before buying a new one, which would take a long time.
Final Takeaway
Renting or buying a house is a decision that depends solely on your financial situation and personal goals. People will give their opinions on which is better, but it ultimately boils down to your choice. Whether it's renting or buying, be sure to weigh the risks involved as well as the benefits that come from it.
At the end of the day, the decision you make is not just a financial one, but an emotional one as well. If you're financially able to buy a house and set the roots for your future generation, then homeownership is the way forward. But if you're not yet ready to settle down or cannot fund a property purchase, renting is the smart choice until you can save enough to buy your own house someday!